London Car Bombs
Two cars, loaded with explosives, propane tanks, gasoline and nails were discovered about a hundred yards from each other in London's West End.
This is eerily familiar. In Iraq there have been way too many instances of a bomb going off in a crowded area - a market, for instance. Then, when the emergency crews arrive to help the injured and secure the area, a second bomb has been detonated.
The only targets of the second bomb are the rescue, fire, and police crews.
Here is a photo from a car bomb which was exploded outside one of the main gates to the Green Zone in Baghdad in January 2004: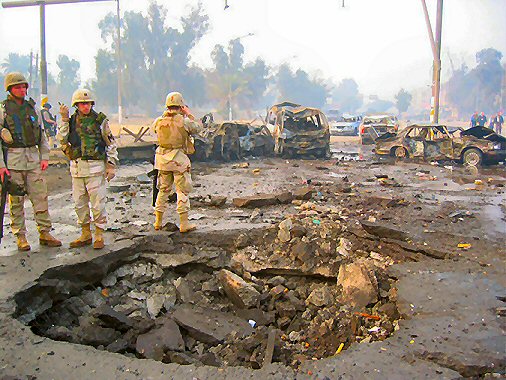 This was not followed by a second blast but look at the size of the hole it put in the street.
There is no photo credit. I took this. You can read the entire posting from January 18, 2004 which was titled
In a War Zone; Near a War Zone
Rich