Now back to our regularly scheduled programming.

-----

From Hungary, Austria, Croatia, Serbia
(Good photos courtesy Tim Hyde)
(Bad Photos are mine)

This is Part 4 of The Hungary Games. The series will conclude on Friday.

Thank you, all, for your nice comments about Parts 1 and 2.

If you missed Part 1 click HERE.
For Part 2 click HERE.
For Part 3 click HERE.

-----

The Hungary Games

Part 4

Shortly after I filed Part 1 of this series from Budapest, I got a note from one of my best friends, Ginny Wolfe, asking why I called the travelers "migrants" instead of "refugees."

Ginny has the standing to ask. She is a senior person at the One Campaign and has led small groups of Americans into villages that have no names in countries whose names I cannot remember. This is an example of a typical discussion:

Ginny: I'm going to Malawi next month.
Me: I don't think I've ever been to Malawi.
Ginny: Yes you have. Twice. With me.
Me: Oh, yeah.
Remember when we talked about the dangers of parachuting into a situation like the Hungarian border, spending a few days, and coming away believing you have it all figured out? As I said, I was looking at it through a straw. I could only see what I saw which is why we spent so much time talking to volunteers who had been on the ground for days or weeks.
They've seen the sweep of people coming through and, often, have gathered enough data points to draw some conclusions - maybe right, maybe wrong.
One such is the percentage of people who are actually from Syria - which is how this whole thing started. We heard from different people in different places that no more than 20-30 percent of the human river is Syrian. The single largest ethnic group is from Afghanistan and they are almost entirely males.
Others are from Pakistan, Iraq, Eritrea (and elsewhere in Africa), Bangladesh, and as far away as the Philippines.
It has been reported that 11 million Syrians - about half the population - has been displaced, killed or have left their country. With a population just short of 320 million that would be the equivalent of 160 million Americans leaving their homes and maybe leaving the country. This is not the appropriate forum to argue how Syria got to this point and whose fault it might be. It is not likely that is the fault of the estimated 4 million Syrians who are living in, or en route to, a new country.
We got that part.
What we were having trouble understanding was the large numbers of Afghans and other nationalities in the flow. One volunteer said, simply, "They want a better life."
As creeks will join to form brooks, and brooks, streams; and streams, tributaries; and tributaries, rivers sooner or later they will empty into a lake or gulf or the sea. In this human torrent, such a lake is a huge reception center in Opatovac, Croatia.
We found it after being, literally, chased out of a military facility by a guy who kept his hand on his side arm as he impatiently explained we were in the wrong place.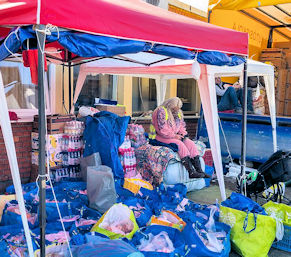 Unlike some of the make-shift centers we had seen before - places in which the major protection was a white plastic shelter held up with four aluminum poles - there was a sea of pup tents next to the "media parking area" with huge air-supported military-style tents in the distance.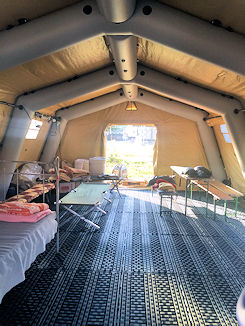 We hopped out of the car and saw a group of reporters and people with TV cameras on tripods so we high-tailed it over there and waved our very official Barrington News Service creds around.
"English?" I asked half raising my hand to indicate an appropriate acknowledgement. A young woman said she spoke English and I did my best Edward R. Morrow:
"What happens?"
She said she was a reporter for Croatian Public Television and had been there for a couple of weeks. People come in by bus, she told us, they are processed, and then sent along to the Hungarian border by another bus.
The center can process four- to five-thousand migrants per day. One of the officers told us that, depending upon the ability of the Hungarians to move them from the Croatian border to Austria, they try to keep people here no longer than 48 hours.
There was a sign (in English, Arabic, and Pashto) that explained it to the migrants: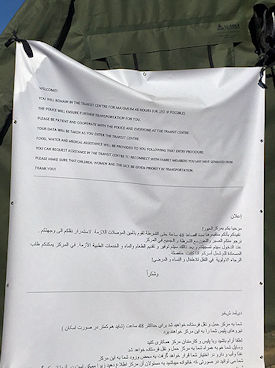 Here's what it said:
Welcome!

You will remain in the transit center for maximum 48 hours (or less if possible).

The police will ensure further transportation for you.

Please be patient and cooperate with the police and everyone at the transit centre.

Your data will be taken as you enter the transit centre.

Food, water and medical assistance will be provided to you following that entry procedure.

You can request assistance in the transit centre to reconnect with family members you may have separated from.

Please make sure that children, women, and the sick be given priority in transportation.

Thank you!
There were volunteers at every turn handing out snacks, sandwiches, water and, if you were a cute little girl, a Juicy-Juice.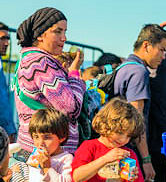 The contrast with the studied lack of sympathy we had seen at the Hungarian train station was blinding.



As the migrants entered the reception area there were signs like these for those who had gotten separated: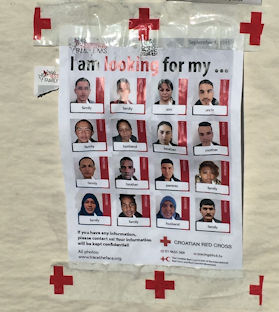 We were told that the information that the Croatians wanted were a name, a photo, where they had come from, to what country they were aiming. They didn't take fingerprints unless the person wanted to stay in Croatia because the taking of fingerprints frightened them.
In one of the holding areas where people waited to be ushered into the processing tent, I did my "English?" act, with my hand in the position that Hollywood pretended Indians and Cowboys used when greeting each other while saying, "How."
A young man raised his hand so I went over to chat.
He said his name was Amir. He didn't want to give me his last name but he said it started with the letter "A." He was from Iran and was trying to get to England. His parents didn't want him to make this trip. They were worried for his safety.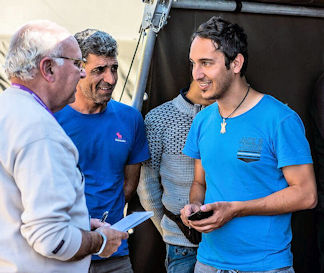 As you can see, he appears to be in his mid- to late-20s. He told me he was a graduate of the Institute of Mechanical Engineering in Tehran and had a job as an engineer in a small manufacturing company.
He had been travelling for eight days, starting with a flight to Turkey then overland, joining with more and more migrants until he had arrived here at the reception center in Bosnia.
I asked him why he was so focused on England "I already speak English, so I could get a job faster, but," he went on, "if I have to learn to speak German, I will."
What didn't he like about his life in Tehran? "The Iran economy is not good. It will not grow. I want to do more with my engineering skills."
If he could afford to fly to Turkey, I asked him, why didn't he just fly to Berlin and then make drive to London?
Here's the big point: A visa.
"I wouldn't be able to get a visa for Austria, or Germany or England," he said. "I don't need a visa coming in this way."
Aha! So, was Amir taking advantage of the situation? - a negative connotation. Or was he availing himself of the situation? - neutral.
Is Amir cheating? I don't think so. He's not taking a spot that would otherwise be used by someone needier.
He said, "I'm making my own luck."
You know what? If I owned a manufacturing company and I knew this kid was coming my way, I'd be standing at the Austrian border with a job offer in my hand.
So, Ginny. Are they migrants or refugees?
Some are one. Some are the other. And some are both.

If you missed Part 1 click HERE.
For Part 2 click HERE.
For Part 3 click HERE.