"… Emory/Tulane ...": In the e-mail version of today's Mullings I wrote Newt received his PhD from Emory University. He received his undergraduate degree at Emory. He received his PhD from Tulane University.

Mullfoto of the Day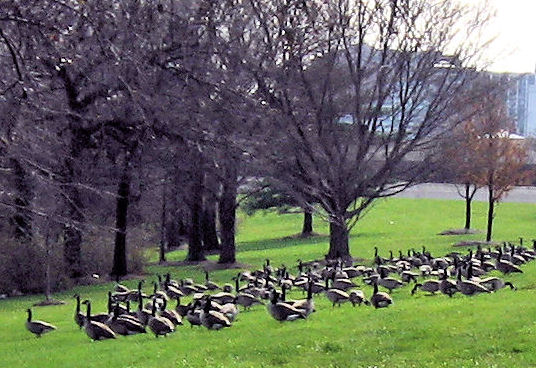 It was in the 60's yesterday in Your Nation's Capital so I decided to ride my new 150cc scooter into the office to get some work done. I rode up a road named "Boundry Channel Drive" which is on the grounds of the Pentagon.
I drove past this gaggle of geese which struck me as a bunch of geese having a town meeting.
I stopped, pulled off onto the grass, put the scooter up on its stand, pulled off my helmet, reached into my backpack for my camera and started taking pictures of the geese.
After a few minutes I looked up and saw I was surrounded by Pentagon Police car - no one had guns drawn or anything. I said to the closest policeman that I was taking photos of the geese, that I had not taken any shots which had the Pentagon or any guard houses in the frame, but they were free to check.
They waved and drove off.
An infringement of my First Amendment Right to take a photo of geese? Even it it was, I was glad the Pentagon cops were on the job.

Catchy Caption of the Day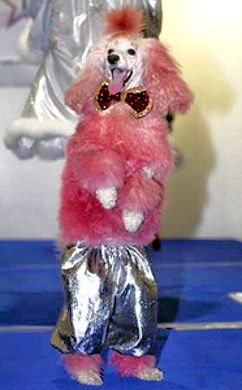 Actual Caption:
A Poodle presents a costume during a dog fashion show at a Christmas fair in the Siberian city of Krasnoyarsk December 17, 2006.
Pass me the Vodka. Again.
(REUTERS/Ilya Naymushin)
Home | Current Issue | Past Issues | Email Rich | Rich Who?

Copyright ©2006 Barrington Worldwide, LLC | Site design by Campaign Solutions.