"… March of Dimes ...": Here's the link to the invitation to the March of Dimes event in Washington on Wednesday night. I don't do this kind of thing very often, but back in the day, the March of Dimes was committed to eradicating polio.

My brother had polio when he was about seven years old. I don't remember because I was only three, but I do remember the family stories about how thrilled everyone was when, after months in the hospital, he could move one of his fingers.

My brother is now nearly 65 and fully recovered. The March of Dimes paid his hospital bills.

Mullfoto of the Day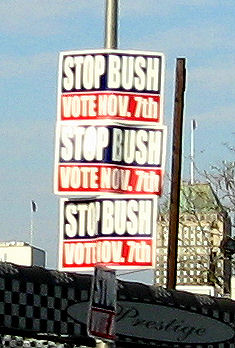 Signs along a street in Newark, NJ. You would think George Bush was on the ballot.

Catchy Caption of the Day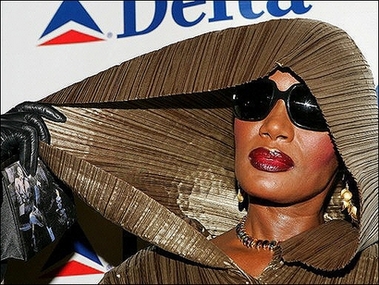 Actual Caption:
Grace Jones makes an appearance to celebrate Delta Ailrines' newest international route between New York and London at Stone Rose Lounge, November 01. More than 1,200 people called Jones claimed the world record for the biggest get-together of people with the same name.
Amusing, isn't it, that there is no way that Ms. Jones could get through security to actually board a flight to London with all that crap on: Scarf? Off. Sunglasses? Off. Gloves? Off. Earrings? Off. And, assuming she's wearing shoes ... Off.
(AFP/Getty Images/File/Evan Agostini )
Home | Current Issue | Past Issues | Email Rich | Rich Who?

Copyright ©2006 Barrington Worldwide, LLC | Site design by Campaign Solutions.