"… Jim Webb ...": WARNING. This is disturbing stuff. Please do not click here if you think you might be offended.

Mullfoto of the Day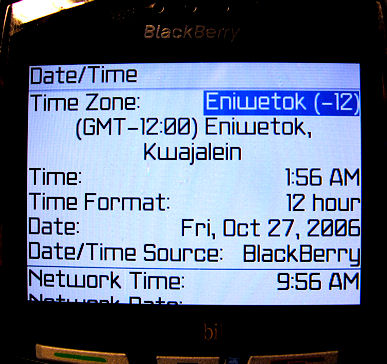 All righty, then. When I synch my Blackberry with my laptop the time zone remains Eastern (Universal Time -5). However, when I synch it with my desktop it changes to Eniwetok which was the site (in November of 1952) of the first hydrogen bomb explosion. Overall 43 atomic and thermonuclear tests were conducted on Eniwetok Atoll.
The question is ... why does my Blackberry want me to know what time it is there?

Catchy Caption of the Day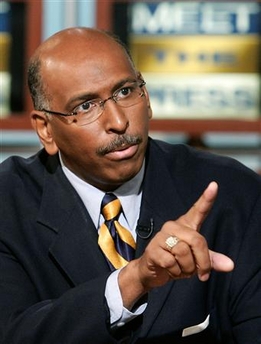 Actual Caption:
Republican U.S. Senate candidate Lt. Gov. Michael Steele of Maryland speaks during a debate with Democratic U.S. Senate candidate Rep. Ben Cardin (D-MD) on 'Meet the Press' during a taping at the NBC studios in Washington October 29, 2006.
I was at NBC on Sunday morning before, during and after the "Meet the Press" debate between Steele and Cardin. I was doing four segments on MSNBC which I suspect no one saw, but that's not my point.
In between segments, and after the debate, I walked into the holding room where Cardin's supporters were sitting and asked them how they thought it went.
The Golden Rule of Debate Spin is: Always declare victory.
Cardin's people sort of shrugged and did that tipping thing you do with the outstretched fingers of your hand which indicates "so-so."
(Alex Wong-Meet the Press/Handout/Reuters )
Home | Current Issue | Past Issues | Email Rich | Rich Who?

Copyright ©2006 Barrington Worldwide, LLC | Site design by Campaign Solutions.