"… Heather Wilson's Campaign Page ...": If you would like to help, here's the link to the Heather Wilson Campaign Page.

Mullfoto of the Day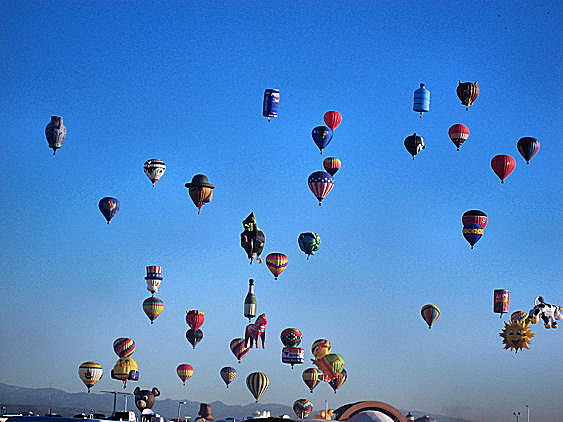 The annual Balloon Fiesta was being held in Albuquerque while I was there.
Because these are hot air balloons, and because we are just outside three weeks until election day, I thought I might get some inspiration from the event.
I got up at 3:30 am to be out at the site by 6-ish when activities got under way. In the end, I didn't have time to actually get up into a balloon before I had to catch my flight home, but I did help get one launched which was pretty cool.
This photo is of the launch of the shaped balloons - witches, beer cans, champagne bottles, and the like - which is called a "mass ascension."
I thought had a certain Easter-esque ring to it and, having thought of it, I did what I always do: I said it 127 times to be certain everyone in the Mountain Time Zone heard it.
Sure enough ...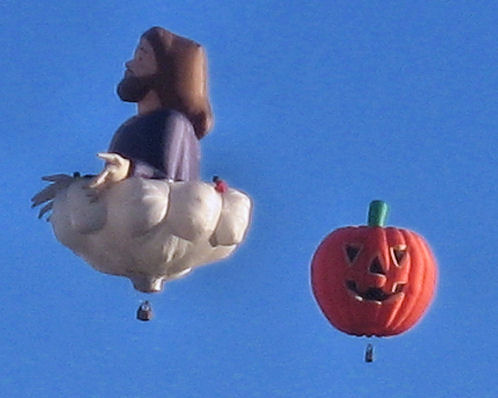 To get a sense of scale, if you look below Jesus and the Jack 'o Lantern, you can see the baskets which each hold four people plus all the gizmology necessary to keep the balloons aloft.

Catchy Caption of the Day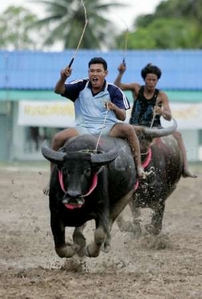 Actual Caption:
Men ride buffalos during the Buffalo Racing Festival in Thailand's Chon Buri Province, nearly 80 km (50 miles) southeast of Bangkok. The festival celebrates the rice harvest
See? This is what I'm saying. Mullings provides you the world wide range of festivals. Balloons in Albuquerque; buffalo in Thailand.
Where else? I ask you. Where else?
(REUTERS/Sukree Sukplang )