"… AP Piece ...": Here is a link to a 2004 piece by AP reporter Jim Krane about how the CPA Public Affairs shop was merely an extension of the Bush Campaign communications operation. My comments follow:

I was unalterably opposed to helping Krane with this piece because I thought it was so unfair and untrue. At one point he wrote:
One CPA staffer who spoke on condition of anonymity said the press office had sent targeted "good news" releases to American television, radio and newspaper outlets that were timed to deflect criticism of Bush during the Democratic primaries.
I gotta tell you. We weren't that good.

But that wasn't the reason that, after the piece came out, I told Krane I would never speak to him again. This was the section about Dan Senor:
Earlier in his career, after Hebrew University and Harvard Business School, Senor was with the Carlyle Group, an investment firm with Bush family ties and big defense industry holdings. Senor jogged in a Thanksgiving Day race here wearing a "Bush-Cheney 2004" T-shirt.
Forget about the T-shirt nonsense. Forget about Harvard and the Carlyle group. Focus, instead on the two words: Hebrew University. Do you think, in that environment, it may have been toxic to point out that Senor is Jewish? Later on in the piece, when Krane wrote about me, he didn't point out that I had gone to Marietta College, Marietta, Ohio 45750.

Even though I was not a favorite of Krane, here's what he wrote:
Rich Galen, 57, a well-known Republican strategist, oversees the daily news releases sent directly to media outlets in the United States. Before joining the CPA press operation late last year, Galen wrote a GOP insider column and appeared on Fox News to harpoon liberal critics of Bush.

Now, he's still writing an Internet column, but he's turned it into what he calls a travelogue about Iraq. And he still appears on Fox - but long-distance via satellite and as a CPA spokesman.

Galen has been press secretary for both former House Speaker Newt Gingrich and former Vice President Dan Quayle during their careers. Galen's 27-year-old son, Reed, is involved in the Bush re-election effort.

Since arriving in Iraq, Galen said he has made sure not to veer into politics in his work in the Green Room, in his column or during his television appearances.

"I understand when the game clock is on and when the game clock is off," Galen said. "The clock is off."

Were he to get directly involved in the Bush campaign, Galen said he'd be far more effective working at an office in Virginia outside of Washington D.C. than from the Iraqi capital. "It's as inefficient a way to run a campaign as I can imagine," he said of being in Baghdad.

Outside political analysts, however, said Galen's vast expertise lies in political campaigning, not shipping radio and TV spots to local audiences. Putting a sharp strategist like him in the press room is a campaign masterstroke, said Bob Boorstin of the Center for American Progress, a nonpartisan political think-tank in Washington.

"You know they're in trouble if they shipped Rich Galen over there," said Boorstin, who worked on four presidential campaigns, all Democratic.

"They're desperate to control the story over there. It's a very smart thing on their part. He knows what he's doing."
Mullfoto of the Day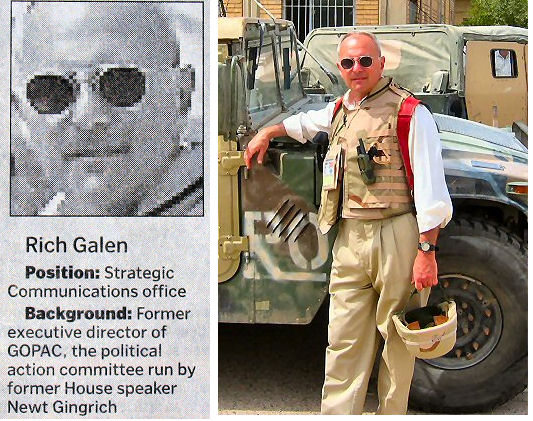 On the left is the photo and caption the Washington Post ran along with the excerpt from the book about bungling Bush backers were in Iraq.
On the right is the actual photo which was taken at the Iraqi national soccer training facility where me and another guy had convinced the US Army Corps of Engineers to come and see what would be involved in bringing the facility up to international standards.
Soccer is the only thing in Iraq that all Iraqis agree on.

Catchy Caption of the Day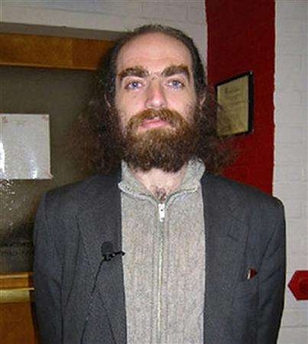 Actual Caption:
An undated handout picture shows Russian mathematician Grigory Perelman, who was awarded with the Fields Medal at the International Congress of Mathematicians 2006 in Madrid
First, Old Grig won the award for solvling the "Poincare Conjecture" which I can't even understand what it's about much less what the solution is.
Second, he was mad at the other mathematicians because they hadn't played nicely with him over the years, so he didn't show up.
Third, what would Poincare conjecture about the chances of Grigory being pulled out of line for a secondary screening at a US Airport.
(REUTERS/International Congress of Mathematicians Madrid 2006/Handout)