"… Dems for Lamont ..." Here's the link to the Washington Post piece from last August detailing the Democratic bigwigs who showed up for a Ned Lamont fundraiser.



Mullfoto of the Day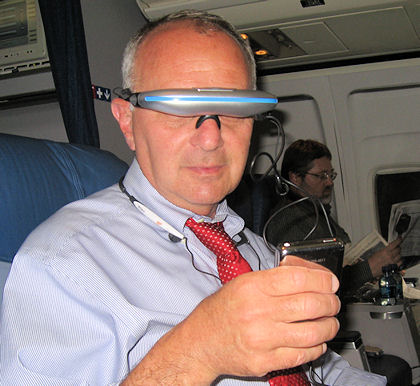 All right. Here is a Mullfoto of me wearing my newest toy. It's that gizmo that's supposed to make your iPod or computer screen look like its a 738 foot-wide Cinerama screen only an inch in front of your eyes.
A. It works - but it looks like you're viewing a one-inch screen, one inch in front of your eyes.
B. Your seat mate looks at you VERY strangly when you take them off - and turns away when you ask him if he wants to try.
C. If you happen to be in first class and you show them to your seat mate do not be surprised if he/she asks to be reseated even after being told there are no seats left in first class and the only coach seats that are available are middles.
D. It is NOT true that I bought them with the expectation that they would somehow be a 2007 version of those X-ray Specs you could buy from the ad on the back of Superman comics back in the 50's. Well, I didn't expect it, but I was sort of hoping ...
---
Don't forget to check out



Updated Every Friday!
---

Catchy Caption of the Day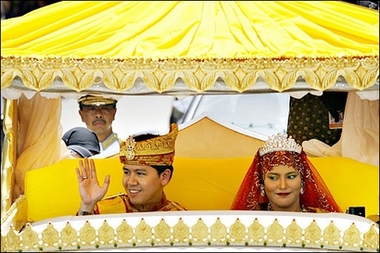 Actual Caption:
Newly-wedded royal couple Pengiran Khairul Khalil (L) waves to onlookers as his bride, Princess Majeedah Nuurul Bulqiah (R), looks on during a street parade in Bandar Seri Begawan. Diamonds sparkled and cannons boomed when the daughter of one of the world's richest reigning monarchs wed a government servant in a ceremony whose origins date back generations.
First, I looked it up for you. Bandar Seri Begawan is in the northeast corner of Brunei as in "The Sultan of ..."
Second, Pengrian might be waving to onlookers, but it seems to me that Princess Majeedah is sneaking a peek at Pengiran's pengiran (if you know what I mean, and I think you do).
(AFP/Tengku Bahar)