"… Coulter books ..."
Godless: The Church of Liberalism

How to Talk to a Liberal (If You Must)

Slander: Liberal Lies About the American Right

High Crimes and Misdemeanors: The Case Against Bill Clinton

Treason: Liberal Treachery from the Cold War to the War on Terrorism

The Truth Can't Be Delivered with Novocaine (A collection of columns)
Mullfoto of the Day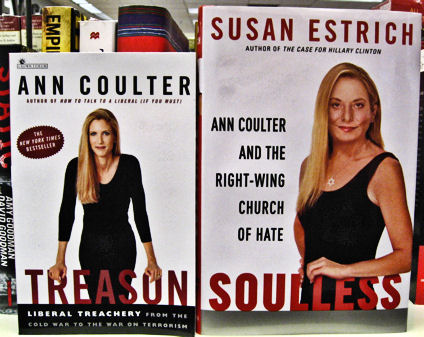 Ann and Susan: Separated at birth?
This is instructive. If you look for life's little ironies, you find them everywhere.
I was trolling the Political section at Books-a-Million in Old Town, Alexandria and came upon these two books.

Catchy Caption of the Day


Actual Caption:
Connor McCreaddie an eight-year-old boy who weighs 200Lbs, and his mother Nicola McKeown, pose in front of their house in North Shields, England. McCreaddie will be allowed to stay with his mother after social workers decided against taking him into care.(AFP/Str )
For his own safety, I'm for putting Connor into the immediate care of Al Gore.
(AFP/Str)