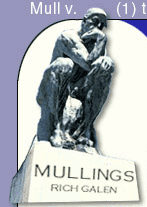 ---
Click here to keep up with Galen's Speaking Schedule

Looking for a back issue of Mullings? They're in the Archives
---
---
Karen


Wednesday, April 24, 2002

Click here for an Easy Print Version


At about 10 o'clock yesterday morning Counselor to the President Karen P. Hughes wandered into the briefing room at the White House and announced she would be leaving this summer to return to Texas.
By 10:03 it had hit the AP wire. By 10:08 speed dialers were burning all over Washington, largely by Big-Time-Washingtonians asking each other there might be some deep - preferably dark - reason for Karen's announcement. The conversation quickly turned to what would happen next.
The answer to the second part is: Probably nothing in the short term. George W. Bush has an MBA from Harvard so, even though that particular degree from that particular institution is given somewhat less weight when it has been earned by a Republican than by a Democrat, the President does know something about complex systems and their management.
The answer to the first part, follows:
Some full disclosure: In 1991 Congressman Steve Bartlett was running for Mayor of Dallas. In addition to a bunch of other very talented people, Karen was the Communications Director, Jeanne Johnson Phillips was the Finance Director, and I was the Press Secretary.
Karen went on to become Counselor to the President. Jeanne ran the Inaugural and is now the U.S. Ambassador to the Organization for Economic Cooperation and Development in Paris. I am - as Popeye was wont to say - what I am.
Having said that, I had no advance knowledge of Karen's decision to leave and I have no inside information as to the reason.
But there are some patterns which attach to these situations which may help explain Karen's decision.
This is April of the second year of the Bush Administration. If you are working in an Administration's first term, and you are thinking about leaving, you have to leave prior to the mid-term elections. If you are still in your position after November, you have pretty much signed up to stay through the re-election campaign.
So, you are not deciding on whether to stay around for another three or four months. You are committing to another two-and-a-half years.
Although we hear a great deal about the families of the principals - the President's and Vice President's families - everyone else has a family, too. Karen's husband, Jerry, is a lawyer. Jerry is a gentle, kind, behind-the-scenes type of guy. Unfortunately for him, when your wife is the Counselor to the President there are not many clients you can service who might not leave you open to a conflict of interest.
Their soon-to-be-a-teenager son, Robert, spent the election year being home-schooled on the campaign plane. This was wonderful for mother-son togetherness, but not much for kid-to-kid activities. Robert, it seems reasonable to suspect, would like to go home and hang with his pals.
In the case of the Hughes family, this situation has existed for five full years. In 1997 the Governor George W. Bush re-election campaign began with all of its Presidential implications. In 1998 Karen, along with the other two sides of the "Iron Triangle," Karl Rove and Joe Allbaugh, engineered a victory with a big enough margin to launch the Presidential election campaign which began with an trip to Iowa following the Legislative session of 1999, and didn't conclude until a cold December evening in 2000.
That's a lot of campaigning leading up to 15 months of actually being in the White House. Sometimes a family just needs to catch its breath.
Not so long ago The Mullings Director of Standards & Practices and I ran into the Hughes family and the Allbaugh family at a local restaurant. Karen indicated that they were still trying to adjust to living in Washington. I suggested that if they ever got to a comfort point, it would be a signal it was time to leave.
In this age of hyper-sensitivity to scandals - real, impending, or imaginary - the first major departure from the White House seems to be nothing more than the desire of an ordinary family, which has participated in an extraordinary experience, to return to an ordinary life.
Godspeed, the Hughes.
On the Secret Decoder Ring page today a series of AP alerts on the Hughes announcement, a short discussion of the "Iron Triangle," as well as the usual stuff:

--END --
Copyright © 2002 Richard A. Galen

---

If you are working at a lobbying firm, a government affairs office, a coalition, or a PAC you should take a look at this page to see how advertising in Mullings might serve your organization very well:
Current Issue | Secret Decoder Ring | Past Issues | Email Rich | Rich Who?
Copyright ©1999 Richard A. Galen | Site design by Campaign Solutions.